You are here: Home
catalog
monitoring-datalogger
veriteq
Data Logger and Continuous Monitoring System "Vaisala"
---
---
Fail-safe Monitoring and Alarming
Validation & Mapping
Temperature, Humidity and Many Other Parameters
---
Central, fail-safe monitoring system of the highest quality
---
Do you work in the pharmaceutical industry, bio-technology or other critical areas where compliance with predefined parameters is extremely important?
Watch the video to learn about the fail-safe, GMP compliant and highly precise 24/7 Continuous Monitoring System (CMS) by Vaisala.
Find out why the world's largest pharmaceutical producers and manufacturers of bio-technology and medical equipment rely upon this system for monitoring temperature, humidity and other critical parameters.
Read also:
9 Things you need to know about Continuous Monitoring Systems
Highlights:
Fail Safe
Maximum data security through independent, redundant data storage, 10-year battery life and automatic data recovery in the event of data loss
GxP / FDA compliant
The system is certified according to international standards. Ideal for regulated areas where high-end products and processes need to be monitored.
Comprehensive IQ/OQ documentation is also available
Flexible Alarm generation - 24/7, worldwide, to any recipient
Remote and on-site alarms - Informs via SMS, telephone, pager, PC, both acoustically and visually when defined thresholds have been exceeded
Comprehensive reports - simple, automatic, customized
Generate custom reports and send them by e-mail on demand or automatically according to schedule
Highest precision and long term stability
The Vaisala continuous monitoring system is based on high-quality, independent data loggers, which are highly precise, long-term stable and calibrated according to ISO 17025
Validation/Qualification and continuous monitoring in a single system
Use the validated data loggers for your mapping studies and integrate the same loggers into your monitoring system afterwards
Easy to install
Even large systems can be integrated within a few hours into your facility. You decide whether this is done wirelessly or using the company's Ethernet infrastructure
Typical applications for the viewLinc monitoring system:
Storage areas and buildings
Blood banks, tissue banks and organ banks
Refrigerators and freezers, cool rooms and cold rooms
Clean rooms
Stability chambers and incubators
Calibration laboratories
Archives
Medical research
Critical production areas
---
---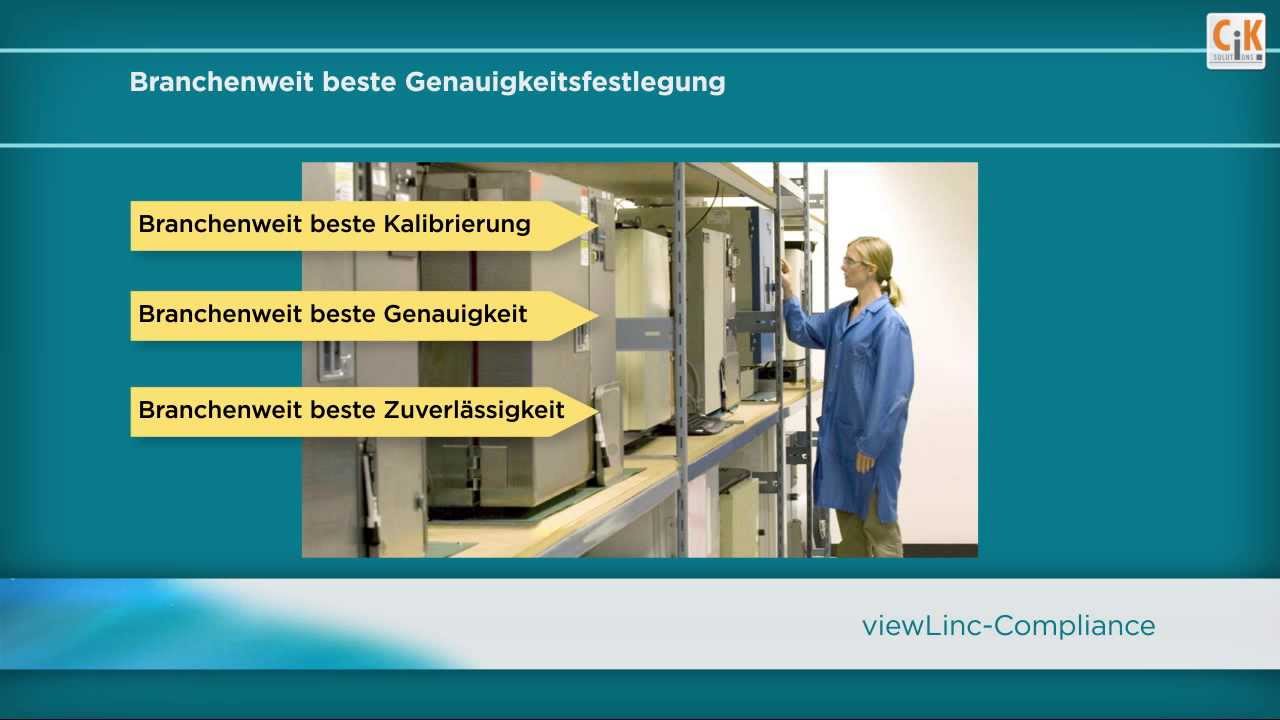 Watch the video to learn about the details of the "viewLinc", the fail-safe, GMP compliant and highly precise 24/7 Continuous Monitoring System (CMS) by Vaisala.
Read also:
---
---
---
Other topics that may interest you:
Zum Seitenanfang