Biohazard Waste Treatment
Compact, Safe and Fast: a steam sterilizer specifically designed for total decontamination of hospital waste. Convert potentially infected or already infected waste into municipal waste.

The biological risk related to the management of infected and hazardous solid waste (BSL 2
÷ 4) generated by hospitals, healthcare centers, surgery clinics and BSL-rated labs can be successfully reduced to zero by means of the steam sterilization, the only thermal process capable to sterilize with a SAL of 10-6 (equivalent to a 6log bioburden reduction) any solid waste introduced inside the pressure vessel, Including bacteria and viruses.
Main features of our WaSter:
Trituration (crushing) in vacuum
Complete sterilization in saturated steam
Significant reduction of waste volume
Perfectly sealed and safe system
Available as free-standing system and pass-through version
Diverse customization options
Brochure for our WASTER series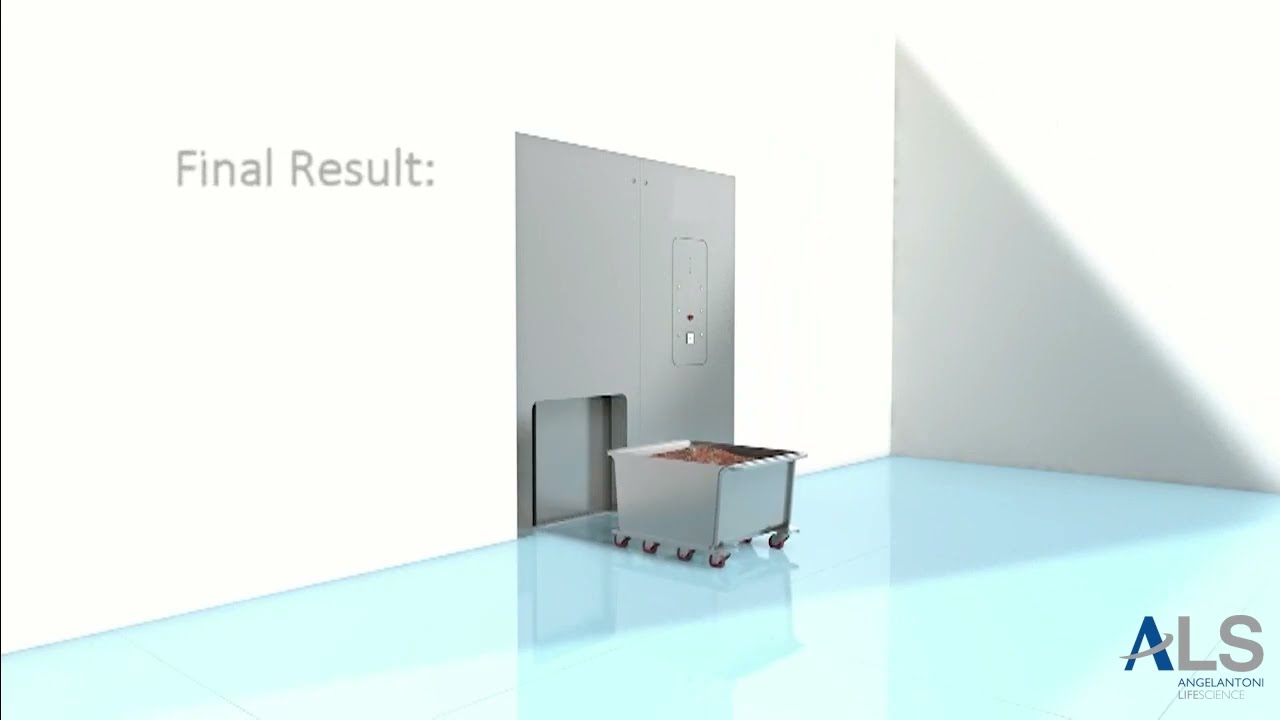 Benefit from years of expertise
Our CiK team is available to you at any time, providing advice and support, and will also assist you with complex and challenging issues. Benefit from our many years of project experience in almost all industries and receive ideal proposals for your individual application. It is our goal to support you in continuously improving the quality of your products.
Contact us:

0721 – 62 69 08 50
Process for shredding and sterilizing waste
Thermal treatment and following decontamination take place in a perfectly sealed stainless steel vessel thus avoiding the risk of any cross-contamination.

The shredder is extremely robust and capable to significantly reduce the overall volume of the waste (which gets fragmented into very small pieces).

The shredded waste also facilitates the air removal during the application of the vacuum. This enhances the steam penetration and sterilization, avoiding any risk of residual biological contamination.

The sterilizer version with pass-through hatch (available as an alternative option to the single door vessel) allows a unidirectional pathway of the biological waste. This option is always advisable where full segregation of the loading side ("dirty" area) from the unloading side ("clean" area) is desired.
More information
+

Developed to comply with applicable European and international standards: (Show more)

2006/42/EC for Machinery Directive
2014/68/EU for Pressure Equipment (PED)
2009/125/EC for Eco-friendly design (ERP)
2014/35/EU for Low voltage
2014/30/EU for Electromagnetic compatibility
UNI EN ISO 285:2016 (specific requirements and tests for large steam sterilizers)
UNI EN ISO 17665-1:2016 (specific development, validation and routine testing)
CEI EN ISO 61010-1:2013 (safety requirements for electronic equipment)
CEI EN ISO 61010-2-040:2015 (specific requirements for sterilizers and washer-disinfectors used for the treatment of medical materials)
UNI EN ISO 15614-1:2012 (qualification of welding procedures)
UNI EN ISO 9606-1:2013 (welder qualification test)
UNI CEI EN ISO 17050-1:2005 (conformity assessment)
UNI EN ISO 14971-1:2012 (risk analysis)
EN IEC 62304:2006 (software validation)
IEC 62366-1:2015 (usability)
UNI EN ISO 9001:2015 (quality management system)
UNI CEI EN ISO 13485:2012 (quality management system)
+

WaSter® offers four distinctive competitive advantages: (Show more)

80% reduction of the original solid waste volume leads to a significant reduction of the waste to be disposed
Solid waste is completely dry, ensuring an easy and clean handling
Location of the shredder in a sealed environment ensures safety throughout the treatment process
The entire treatment cycle takes place inside a tightly sealed pressure vessel, thus preventing the emission of unpleasant smells.
+

Reliable process validation: (Show more)

Completing the validation process ensures that the design conditions are met soon after the installation. In particular, the following values are constantly checked during the sterilization cycle: pressure, temperature and the presence of non-condensable gases.

Monitoring those parameters not only guarantees the effectiveness of the sterilization process in compliance with the reference standard UNI EN ISO 17665-1:2006, but also a Sterility Assurance Level (SAL) of 10-6.

+

Environmental Impact: (Show more)

WaSter® was developed by applying an eco-project design, with the aim of preserving the environment in which we live. Based on the idea of producing a device with sustainable consumption to reduce the environmental impact, significant, measurable goals were set and also achieved, all of which enhance the performance of the WaSter® product line.
The vacuum is generated by an innovative vacuum pump that runs fully dry (no lubricants required) and is compatible with steam. The water consumption for vacuum generation is limited to the production of pure steam and the cooling of the discharge outlet.

1. Arrival of infected material
The infected material is collected, sealed in a transport trolley using special disposable plastic bags and placed in the area of the lifting platform. A special trolley is then loaded into the WaSter® to receive the shredded waste
2. Manual loading of infected material and cycle start
The transport trolley containing the infected material is lifted to the correct loading level via the integrated lifting platform. The waste is loaded manually: after loading, the chamber is hermetically sealed and the cycle begins.
3. Unloading of the sterilized material
The trolley containing the shredded and sterilized waste is unloaded from the clean side of the WaSter®
WaSter® Models
Model
Treatment
capacity
Weight after treatment
Cycle duration
Voltage

WaSter 50

50 kg/h

1/10

1 hour

400 V / 50 Hz

WaSter 50 Pass-through

50 kg/h

1/10

1 hour

400 V / 50 Hz

Double WaSter 50

50 kg/h

1/10

1 hour

400 V / 50 Hz

Double WaSter 50 Pass-through

50 kg/h

1/10

1 hour

400 V / 50 Hz
Technical Data & Features
Frame, front and side panels made of AISI 304 stainless steel

AISI 316Ti stainless steel chamber, 8 mm thick

Chamber floor with central drainage and filtering, can be completely emptied and cleaned

AISI 304L stainless steel jacket, 6 mm thick

AISI 304L stainless steel doors

Chamber and doors with Scotch-Brite finish

Vertical and horizontal doors with automatic sliding mechanism

Vertical chamber with integrated shredder

Chambers, doors, steam generator and pipes insulated with Kevlar fabric

AISI 304 stainless steel hydraulic pipes and pneumatic valves;

Steam generation by AISI 304 (E) stainless steel electric steam generator

Steam generation via centralized steam directly into the chamber (S)
Steam generation via electric steam generator and central steam (ES)

Mechanical dry pump for vacuum

Dual data acquisition system (2 probes for temperature and 2 for the pressure transmitter)

Siemens integrated programmable electronic safety controller

Color display and touch screen

Alphanumeric recorder on the front panel

USB port for data backup

Sterilization cycles for empty glassware, rubber materials, fabric, liquids in sealed containers and liquids in open containers plus cycle for infected liquids and materials

Burner at the air outlet of the chamber / alternatively a 0,22 µm sterilizable filter is available.
Other topics that might interest you:
Data Logger and Monitoring Systems
Test Cabinets for
Environmental Research
Cookies
We use personally identifiable data to continually optimize our website for your benefit. Please help us to help you, by accepting our cookies. You can find additional information in our data protection policy.