walk-in-climatic-chambers
Custom-made Walk-in Climate Chambers
Our walk-in Climate Chambers provide the perfect solution for simulation of changing climate conditions. Ideal for testing large products, product batches, or even entire vehicles.
Each one of our Kambic walk-in climate chambers is fitted out with state-of-the-art equipment that reliably creates demanding conditions for tests in varying climatic environments. Modern measuring and monitoring systems record the test data precisely. The quality of the implementation keeps the rooms functioning optimally for years, even with demanding test cycles.

You need an individual solution?
We have successfully implemented a large number of customer-specific solutions, featuring numerous functions and options.
+

Features and Attributes

PLC-based controller with automatic process control
Efficient thermal insulation with different thickness insulation panels
Backup system
Condensation unit (inside or outside)
Compressor-based refrigeration system
Observation Window for doors of different sizes
Heavy-duty closing mechanism with safety release from the inside
Interior made entirely of stainless steel, powder-coated on the outside
Access ports with plugs both end
Electronics compartment (inside or outside)
Chamber features individually adapted shelves with height-adjustable wire shelves
Fully customizable accessories 
+

Technical Data

| | |
| --- | --- |
| External Dimensions | individual |
| Internal dimensions | individual |
| Display Accuracy | 0.1 °C / 1 %RH |
| Temperature Range | -40 °C to +90 °C |
| Temperature stability | up to ± 0.2 °C |
| Temperature uniformity | up to 1 °C @ 37 °C |
| Temperature controller | PID control |
| Humidity range | 10 %RH to 95 %RH |
| Humidity stability (illumination off) | up to 3 %RH |
| Humidity controller | Steam Generator / Ultrasonic Humidifier / Dew Point |
| Refrigeration | Air-cooled compressor unit (water-cooled as an option) |
| Power supply | 3 x 400 V 50/60 Hz (+ 10%) |
| Access ports (mm) | 40 standard (optionally 50 or 90) |
| Interface | RS 232 (optionally USB or Ethernet) |
| | |
We realize walk-in climate chambers on a world-class level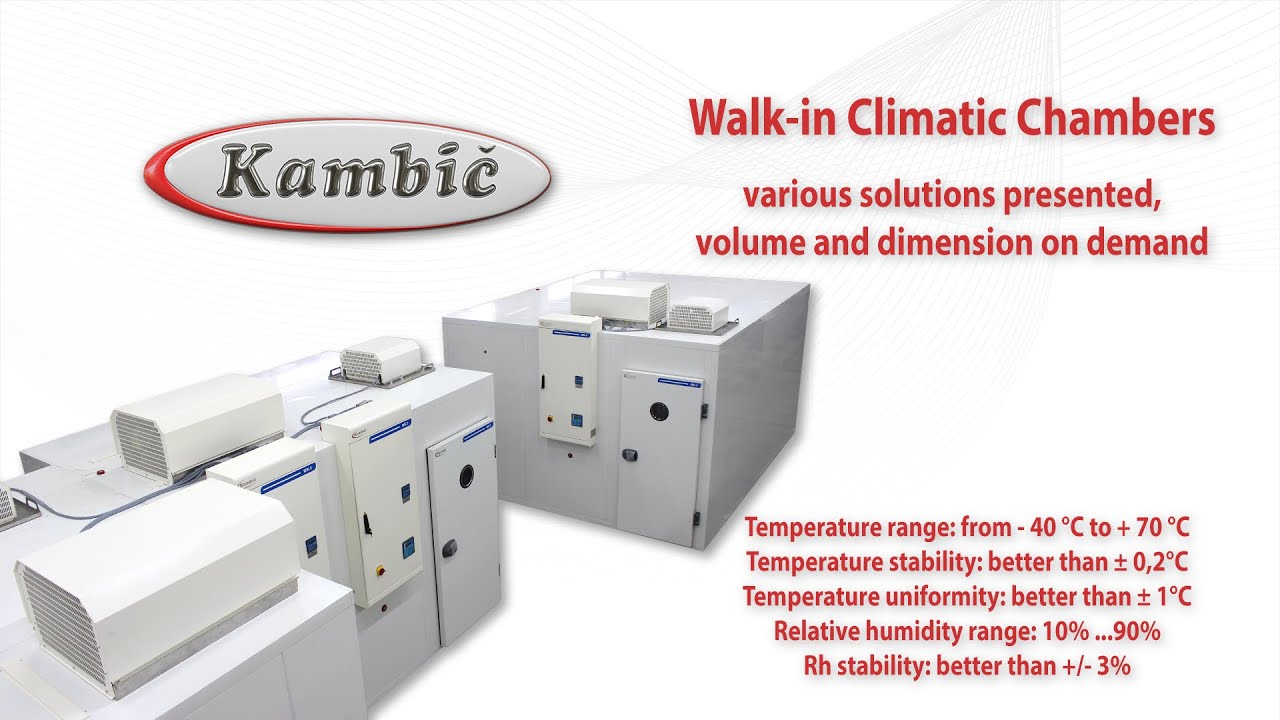 Temperature range from -40 °C to +90 °C

Temperature stability up to ±0.2 °C

Temperature uniformity of up to 1 °C

Heating and cooling rates up to 13 °C/minute

Humidity range from 10 to 90 %RH

Humidity Stability up to 3 %RH

Customer-specific features
---
Renowned customers rely on Kambic Climate Chambers:
We specialize in custom solutions for environmental simulation
Many options exist to individually customize your tests. These include access openings, heavy floor reinforcements, various wall thicknesses and form factors, low-noise enclosures, doors, windows, temperature and humidity ranges, metrological properties, LN2- boost and many more. Contact us so we can assess your project!
Customer Example:
Walk-in climate chamber in form of a freight container
This walk-in climate chamber, designed as a freight container, is used as a mobile test rig. The requirements for this climate chamber were very specific and had to be observed precisely so that they would match the chamber from another manufacturer exactly. Despite its enormous size, the achieved metrological properties of the climatic chamber were better than required.
Mobile test rig as a freight container
Chamber volume of 45 m³
Temperature range from -25 °C to +60 °C
Temperature stability better than +/- 0.5 °C
Temperature uniformity better than +/- 3 °C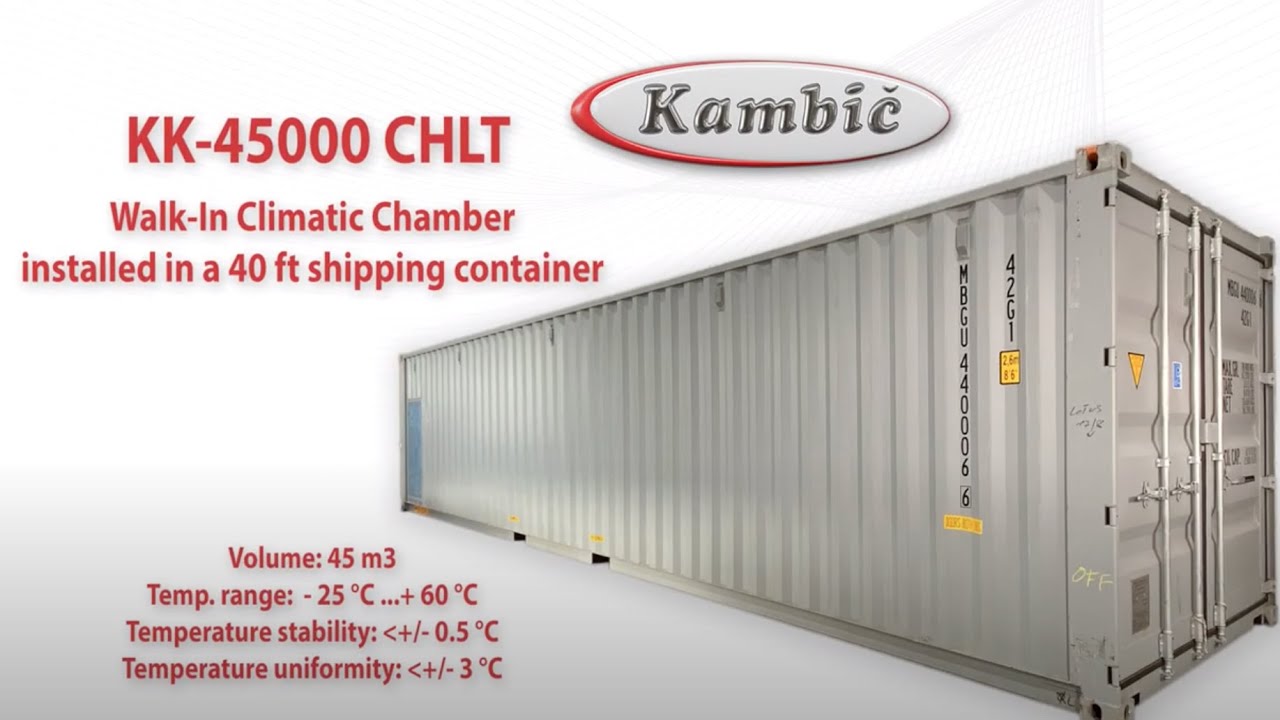 Contact us via phone, email or live chat
and we will discuss your requirements, costs and everything you want to know in an informal, non-binding conversation.
Why not right now?
0721 - 62 69 08 50 | info@cik-solutions.com
Additional solutions for environmental simulation and calibration