pH and Temperature - HOBO MX2501
The new low-cost HOBO® MX2501 pH and Temperature logger is designed for long-term monitoring of pH in estuaries, lakes, streams, rivers, and oceans. It communicates wirelessly via Bluetooth Low Energy (BLE) to the HOBOmobile® app on your phone or tablet, making logger setup, calibration, and data offload quick and easy, with no need for extra equipment or complicated calibration procedures.
As part of water quality studies, pH values and water temperatures of rivers, lakes and oceans often need to be monitored over long periods. Methods for capturing such data must be reliable and accurate, whether during the study of coral reefs, fish transports and sewers or the while assessing industrial pollution in open waters. The MX2501 Underwater Data Logger was specifically developed for electronic measurements of both pH and temperature of water.
Data Logger for pH Value and Water Temperature
The HOBO MX2501 data logger is an instrument designed for underwater environments and allows you to make exact measurements of the pH value and the temperature of water over a long period of time. At any time, you can download historical data stored in the integrated memory.

Rugged PVC housing for deployment in both freshwater and saltwater environments.


Data offload via Bluetooth Low Energy (BLE) to iOS and Android devices
Guided pH calibration following on-screen prompts in HOBOmobile app
Water detection system for longer battery life
User-replaceable battery, pH electrode, and anti-biofouling copper guard
Potentiometric pH electrode with plastic body, gel electrolyte, and double cloth junction
---
Rugged Design, Accurate pH Readings!
Built to be compact and rugged, the MX2501 logger has a replaceable pH electrode, an anti-biofouling copper guard, and a PVC housing, making it ideal for freshwater or saltwater environments. It also includes a battery-saving water detection feature for extended battery life and less maintenance.

Its robust construction enables it to withstand a wide variety of underwater conditions, including large temperature fluctuations, high currents and stormy oceans.

The battery-saving water detection feature enables a long battery life and with it the ability to carry out measurements over a long period of time. Only when the logger has been removed from the water will the Bluetooth function be activated and pH and temperature values transmitted.


Guided Calibration and Analysis
The HOBOmobile app's built-in guided calibration feature makes an otherwise difficult task a breeze, seamlessly walking you through the pH calibration process.

Simply follow the on-screen prompts and your logger is calibrated!

The HOBO MX2501 data logger requires the HOBOconnect app and a compatible mobile device. Using the HOBOconnect app, you simply download the values recorded by your instruments.
---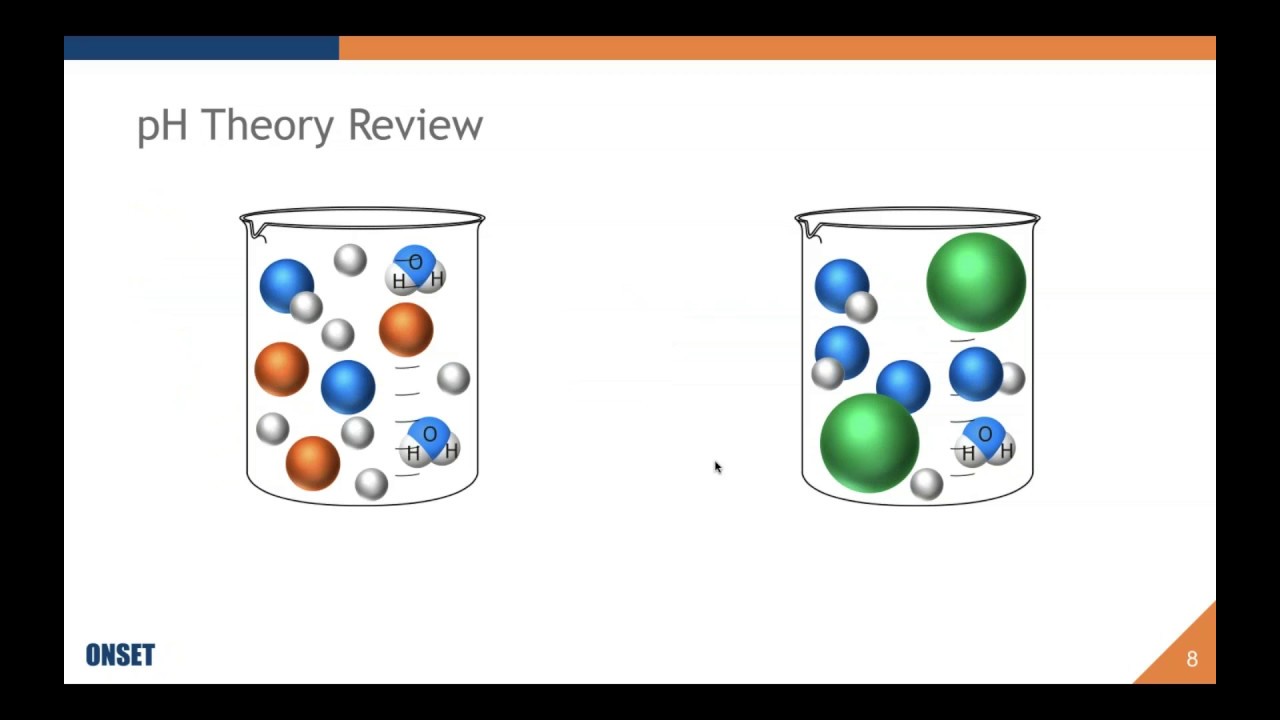 Webinar: HOBO pH and Temperature Loggers
This webinar reviews pH theory and introduces the HOBO® MX2501 pH and Temperature Logger for long-term monitoring of pH in aquatic environments. The logger communicates wirelessly via Bluetooth Low Energy (BLE) to the HOBOmobile® app on your phone or tablet, making logger setup, calibration, and data offload quick and easy, with no need for extra equipment or complicated calibration procedures.
---
Data Analysis with HOBOmobile
The HOBO MX2501 data logger requires the free HOBOmobile app and a compatible mobile device. This allows you to effortlessly configure the wireless data logger. Using the HOBOmobile app, you can easily download the values and temperature data recorded by your devices' sensors.


---
Specifications

Data logger MX2501 - pH and water temperature
Measurements
pH, temperature
Operating Range
-2 °C to +50 °C
Buoyancy
Freshwater: 13,6 g negative
Saltwater: 19,6 g negative
Waterproof
To 40 m
Battery Life
1 year typical at 25 °C with a logging interval of 1 minute and Bluetooth Always On selected in software.
2 years typical at 25 °C with a logging interval of 1 minute and Bluetooth Off Water Detect enabled in software.
3 years typical at 25 °C with a logging interval of 1 minute and Bluetooth Always Off selected in software.

Faster logging intervals and statistics sampling intervals, remaining connected with the app, excessive downloads, and paging may impact battery life.

For more detailed product specifications and a quick start guide please see the user's manual.
Data Sheet MX2501
Quick Start Guide MX2501User Guide MX2501
Temperature Sensor
| | |
| --- | --- |
| Range | -2 °C to +50 °C |
| Accuracy | ±0.2 °C |
| Resolution | 0.024 °C at +25 °C |
| Response Time | 7 minutes typical to 90 % in stirred water |
pH Sensor
| | | |
| --- | --- | --- |
| | pH | mV |
| Range | 2.00 to 12.00 pH | -512 to 512 mV |
| Accuracy | ±0,10 pH units within ±10°C of temperature at calibration | ±0.20 mV |
| Resolution | 0.01 pH | 0.02 mV |
| Response Time | 1 minute typical to 90 % at a constant temperature in stirred water | |

HOBO MX2501 Replacement Electrode
With its gel electrolyte and double Pellon® junction minimizing the chance of contamination of the reference electrolyte, this plastic-bodied electrode and the HOBO MX2501 pH and Temperature Data Logger are perfectly suited for environmental monitoring of streams, lakes, rivers, estuaries, and oceans.
The electrode uses potentiometric and temperature measurements of samples to determine the pH, and can easily be replaced because of the simple plug-and-play 3.5-mm connector. Following proper calibration, storage, and maintenance protocols for the electrode, the MX2501 can achieve pH accuracies of ±0.10 pH units within ±10 °C of temperature at calibration. The replacement pH electrode replaces the original pH electrode that ships with the HOBO MX2501 logger. The electrodes should be replaced after six months of use.
NOTE:
pH electrodes should always be stored in a storage solution when not deployed.
---
Frequently Asked Questions



+

Can I download data from an MX2501 pH logger deployed in water?

No, the logger needs to be removed from the water to download the data.

+

Does the logger feature a user-replaceable electrode?

Yes.

+

What type of pH electrode is used?

Plastic-bodied, double junction electrode with a Pellon® junction and gel reference electrolyte.

+

Can I calibrate with custom pH buffers?

No. The electrode is calibrated to 2 or 3 points using standard pH buffers (4, 7, and 10).

+

Is the calibration procedure the same for freshwater and saltwater applications?

The procedure itself is the same; however, some users deploying the loggers in saltwater may want to use a modified version of the pH buffer that includes chemicals (like Tris buffer) to make the hydrogen ion activity in the buffer more similar to its activity in saltwater.
---

pH Loggers - Important Selection Criteria
Data Logger for Measuring pH
Monitoring pH values plays an important role in industrial and environmental monitoring. Using a pH data logger provides information about long-term trends and conclusions on the effects of various external factors. Before you measure pH values using a data logger you should consider three things that can affect the measurement accuracy.
pH Measurement Basics
The pH value is a representation of the hydrogen ion activity of a solution. The pH scale ranges from 0 (strongly acidic with a high concentration of H+ ions) to 14 (strongly alkaline with a high concentration of OH- ions). The most common pH measurement method uses a special hydrogen ion-selective electrode (pH electrode), which is immersed in the solution, together with a second reference electrode. This ion-selective electrode provides a voltage output relative to the reference electrode which varies with the ratio of hydrogen ions inside and outside the electrode. The output of the reference electrode is independent of the ion ratio. By measuring the voltage between these two electrodes, you can determine the pH of the solution. However, measuring the pH of a solution is not as easy as it may initially appear.
3 Considerations for Accurate pH Measurements

Using a simple voltage data logger to record the potential between the two electrodes presents several challenges that need consideration to get accurate pH measurements:


Voltage levels a standard pH electrode produces are between +400 mV and -400 mV, corresponding to a pH range from 0 to 14 at room temperature. pH data loggers must therefore be able to accept positive and negative input voltages. In addition, the device must be sufficiently sensitive that it can accurately detect and measure small voltage changes. A data logger with a full scale input range of ±1 to 2 volts ensures adequate accuracy and resolution to detect changes in pH of 0.1 or less - a logger rated for an input range of 10 volts may not be able to do that accurately.
A pH electrode has a very high internal resistance. It generates a voltage, but since this voltage develops across an ion-selective glass membrane, the current supplied by the electrode to the measuring circuit is very small. A standard voltage data logger can have an input impedance of 1 megohm, which is sufficient for typical voltage measurements. For pH measurement, however, the small current flowing through that resistance leads to voltage drops resulting in large errors in the measured voltage. It is therefore very important to choose a data logger that has an amplifier with a high input impedance, typically in the order of 1 gigaohm or higher, to facilitate direct measurement at the pH electrode with negligible current flowing through the measurement circuit. If this is not possible, pH measurements with standard voltage data loggers can be carried out using an external preamplifier or a pH probe with a built-in amplifier to provide a buffered output signal, thus avoiding the negative effects of the input load. The most common amplifier is a small battery-powered unit that only allows buffering without voltage amplification. Since the currents are very small, these amplifiers can run on a single battery for months. Amplifiers that can be operated with an external DC power supply are also available, ensuring continuous operation over a longer period of time. If data logger and pH electrode are separated over a long distance, it is best to use an amplifier with a 4-20 mA current loop. This allows the signal to be transmitted hundreds of meters with very little loss of accuracy or increased noise.
Lastly, the influence of temperature on the output voltage of the sensor must be considered. The more the pH deviates from 7 and the temperature from 25 °C, the larger the error in the output voltage. For example, without taking temperature into account, measuring the voltage output of a probe in a solution with a pH of 2 at a temperature of 85 °C leads to errors up to .9 pH. In this case, you should choose a multi-channel data logger capable of processing both temperature and voltage, which can offer the option of measuring temperature and compensating the calculated pH value accordingly.
Conclusions for Choosing a pH Logger
3 important factors need consideration before purchasing a pH data logger for your application:


The small, bi-directional output voltage of the standard pH sensor
The effects of the data logger's input impedance load on the measurement accuracy
The need to consider the influence of temperature on the output of the pH sensor.
The use of an intelligent data logger with the appropriate input voltage range and impedance, which also enables temperature measurement, and the application of a correction factor, enable accurate and reliable pH measurements.