Waterproof Temperature Data Logger with Probe
The HOBO U12 stainless steel temperature data logger with 12 cm (5 in.) probe is not only predestined for monitoring the core temperatures of food, but also for all applications where a quick response to temperature changes is imperative.
The data logger with a food-rated stainless steel housing and penetration probe has a large measuring range of -40 °C to +125 °C (-40 °F to 257 °F). Its case makes the logger ideally suited for measurements in areas such as pasteurization, shock-freezing and washdown processes ...


---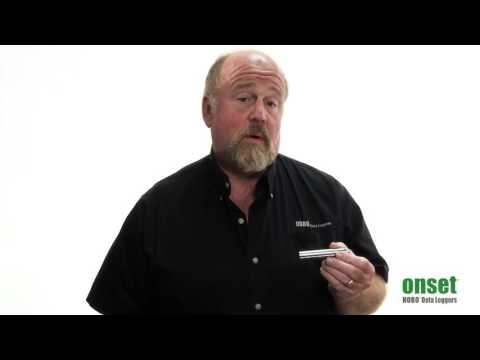 Overview video HOBO U12-015
The introductory video about the HOBO U12-015 temperature data logger series shows you the various possible applications in pharmacy, in autoclaves, in the food sector and in many other areas. The food-rated stainless steel housing is very robust and can withstand processes such as pasteurization, freezing, flash-freezing and washdown without any problems.
Features of the HOBO U12-15-02
The food-rated, stainless housing of the HOBO U12-015-02 enables measurements in a variety of indoor, outdoor and underwater applications.


Food-grade stainless steel (316 AISI, equivalent to DIN 1.4401)
Highly accurate with an extended temperature range
Suitable for high-pressure applications up to 150 bar (2,200 psi)
Rigid external probe, 12 cm (5 in.)
Fast readout via direct USB interface
Literature
---
HOBOWare
The HOBO Pendant® data logger U12-015-02 supports the free graphics and analysis software HOBOWare. HOBOWare enables you to easily display and analyze your recorded measurement data at the click of a mouse. You can simply connect the data logger to your computer using a cable.
---
Features and Technical Specifications
Water temperature data logger U12-015-02
Monitoring Parameters
Temperature
Operating Range
-40 °C to 125 °C (-40 °F to +257 °F)
Accuracy
±0.25 °C from 0 °C to +50 °C (±0.38 °F from +32 °F to +122 °F)
Resolution
0.03 °C at 25 °C (0.054 °F at +77 °F)
Drift
0.05 °C per year + 0.1 °C per every 1000 hours exposed to above +100 °C (0.09 °F/year + 0.2 °F/1000 hrs above +212 °F)
Response time at 1 m/s airflow
<2.25 minutes, typically to 90%
Response time in water
20 seconds, typically to 90%
Time accuracy
±2 minutes per month at 25 °C (77 °F)
Operating environment
Air, water, steam, 0 to 100 %RH
Operating Temperature
Recording: -40 °C to +125 °C (-40 °F to +257 °F)
Analysis: 0 °C to +50 °C (+32 °F to +122 °F)
Battery life (typical use)
3 years, replaceable by the manufacturer
Memory
64 KB
Construction
Stainless steel (316 AISI, corresponds to DIN 1.4401); EPDM rubber or Viton O-ring; see the section on food rating for additional information
82 g
Dimensions
17.5 x 101.6 mm (0.69 x 4.00 inches)
Probe dimensions
4 x 124 mm (0.69 x 4.00 inches)
Pressure/depth rating
Maximum 152 bar
Vibration rating
Navy specification NAVMAT P-9492 (non-probe model only)
NIST Certificate
Available for an additional fee; Temperature range: -30 °C to 120 °C (-22 °F to +248 °F)
For more detailed product specifications, please read the User's Guide