HOBOnet - A New Generation Field Monitoring System
HOBOnet is a cost-effective and scalable remote field monitoring system for web-enabled monitoring of micro-climatic environments in agriculture, plant research, greenhouse operations and many other areas. The centre of the system is an Internet-ready base station, which can be connected to wireless or wired sensors. A variety of sensors and the ability to combine these individually give you maximum flexibility when using the system.

The HOBOnet field monitoring system enables you to monitor micro-climatic conditions as efficiently as you have never done before. View your measurement data in real-time, get informed when thresholds are exceeded and analyze all data - any time, and from any location. The data collected by your HOBOnet system are transmitted at configurable connection intervals to the web-based software HOBOlink.



Please note!
The HOBOnet system for field monitoring is an extremely flexible monitoring system with a large number of customizable expansion options.
Please contact us so that we can build your individual system together with you.
Maximum flexibility and scalability - the HOBOnet wireless system
HOBOnet is the most cost-effective solution for field monitoring with a web-enabled connection and high-precision research-grade data. The base station for field monitoring with HOBOnet is a HOBO RX3000 station. You can connect up to 50 wireless and 10 plug-and-play sensors to build your network. The setup of the system is straightforward, despite its complexity: Plug-and-play sensors and the one-button connection for wireless sensors allow for a quick setup.

Using innovative mesh technology, the wireless sensors ensure a wide coverage of your network. Each sensor has a line-of-sight range of 600m and can also forward signals from the surrounding sensors.

Optional repeaters can increase the sensor range even further. Data are transmitted wirelessly to the base station and forwarded to the web-based HOBOlink software.


Cost-effective solution with the highest precision
Extreme scalability for areas of all sizes
Freely customizable configurations and build options
Remote access to (real-time) data via web-based HOBOlink software
Alarming options with customizable thresholds

Web-based software HOBOlink - powerful visualization in real time
The HOBOnet Field Monitoring System is configured remotely via the web-based HOBOlink software. It enables easy configuration of sensors, sampling rates and alarms and also serves as the evaluation and visualization hub for your data. HOBOlink gives you the ultimate in accessibility to your data and to meaningful analysis.

If pre-set thresholds are exceeded or there is a problem with the system, HOBOlink sends an email or SMS to your phone. Each sensor can be set up with multiple levels of alarms.

You gain precise insights into your real-time and historical data and can view connection patterns for your sensors using the Google maps integration.


Access via browser or mobile device
Notifications about the system status
Setup and management of alarm messages
Automated provision of data
Individually configurable data views
Comprehensive analysis and export functions
---
Benefits of the HOBOnet system
Monitoring and management of cultivation areas
HOBOnet assists growers reduce water use, cut costs, improve the quality of the crops and protect them from climate risks such as frost and heat.
Save Water: Use soil moisture sensors or calculated evapotranspiration to irrigate just when needed, saving water and energy costs
Manage Frost Protection: Use temperature sensors to send frost warning notifications to you and your workers, or to turn on frost protection systems
Reduce Pesticides/Fungicides: Track conditions such as temperature, humidity and leaf wetness to determine the risk of disease or pest emergence for intelligent spraying
Improve Crop Quality: Monitor conditions such as temperature, rain, light, and relative humidity to develop models to optimize irrigation and harvest timing
Field monitoring in climate research
The HOBOnet Field Monitoring System helps researchers to monitor large-scale microclimates with fast, accurate access to findings and flexible export options for easy integration with other data.
Wide Coverage Area: Monitor large and complex sites with reliable wireless mesh networking and self-healing technology
Remote Data Access: Access your data remotely, without needing to travel to your research sites
Data Visualization: Visualize and understand site conditions with map views and custom dashboards
Data Sharing: Easy data export for merging with other data, and sharing data views with other users
Immediate Notifications: If system problems occur, receive alarms and quickly react to resolve them, avoiding gaps in your data
Monitoring of Greenhouse Conditions
The HOBOnet Field Monitoring System provides data for crop and irrigation management and helps growers protect plants and improve crop quality with real-time notifications.
Centralized Monitoring: Monitor all your greenhouses from your desktop or mobile device with Google Maps and dashboard views
Protect Your Plants: Receive immediate notifications of system failures or if conditions reach user-set thresholds, so you can respond faster
Irrigation Management: Optimize water use by monitoring soil moisture
Soil Moisture Monitoring: Cost-effective monitoring of moisture in the ground at many different points to optimize irrigation
Harvest Monitoring: Monitor growing conditions so that you can make adjustments as needed for optimal harvest timing
Reliable Coverage: Cover all your greenhouses with a single network. Solar and battery operation guarantee functionality even in case of a power failure
---
HOBOnet Features
Base Stations
| | |
| --- | --- |
| RX3001 | Connection via Ethernet (LAN) |
| RX3002 | Connection via Wi-Fi (WLAN) |
| RX3003 | Connection via GSM/UMTS (3G) |
The use of the cellular network requires a SIM card. Contact us for dedicated HOBO data plans.
Technical Specifications
Power supply
Solar panel and battery operation
Memory
32MB, 2 million measurements, continuous recording
Operating Range
-40°C to +60°C, weatherproof enclosure
Protection Rating
IP67, NEMA 4x
DISPLAY
LCD display for on-site system verification and configuration
Software
HOBOlink
Wireless sensor range
approx. 450m when mounted 1.8m above ground
approx. 600m when mounted 3.0m above ground
Radio frequency and power
866.5 MHz, 12.6 mW
Transmission protocol
IEEE 802.15.4
Transfer rate
Up to 250 kbps
Digital sensors
Leaf Wetness
PAR
Precipitation
Soil Moisture
Solar Radiation
Temperature
Temperature & Humidity
Water Level
Wind Direction
Wind Speed
---
---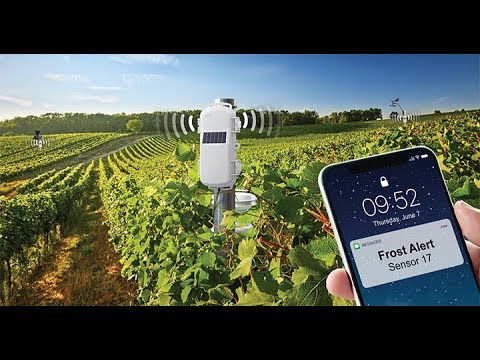 Webinar: Introducing the New HOBOnet Field Monitoring System
In this webinar you will learn learn a whole new way to collect and view data for crop management, research, and greenhouse operations, with the new HOBOnet Field Monitoring System.

You'll be introduced to HOBOnet's new wireless sensors that easily link to the network, and you'll see how to access data through the new version of HOBOlink®, Onset's innovative cloud-based software platform.