HOBO MicroRX Data Logger Station
The web-enabled HOBO MicroRX Station is an easy-to-implement, cost-effective solution for field monitoring. With its compact size and rugged design, the MicroRX Station provides long-term and reliable environmental monitoring. Configurable station-side alarms allow immediate notification of critical conditions, with the web-based HOBOlink® Platform making it easier to view, access and share your data.
Long-term Remote Monitoring of Field Data
The new, web-enabled HOBO® MicroRX Station is an easy-to-implement, cost-effective solution for mobile field monitoring.

The station includes inputs for up to five research-grade plug-and-play sensors and can be ordered with an additional water level sensor input with integrated flow conversion. Configurable station-side alarms trigger immediate notifications of critical conditions, and Onset's cloud-based HOBOlink platform makes it easy to view, access, and share data.
Access your data with a web browser or mobile device
Optional integrated solar module for maintenance-free long-term operation
Optional battery power for covered or shaded locations
Wide range of research-grade plug-and-play sensors
Optional water level sensor input and water flow conversion
Real-time monitoring with up to 10-minute connection rates via 4G cellular radio
Reliable Access to Your Data in Real-time
Access your field monitoring data from anywhere on your desktop or mobile device with Onset's powerful cloud-based HOBOlink software.

Customizable dashboards and easy-to-configure alarms make your field data more accessible and meaningful.
Check station status remotely
Remote setup and management of alarm messages
Plan the automated delivery of data
Configure a dashboard that highlights your key measurements.
Create dashboards that merge data from multiple systems into a single view.
Configure computed channels such as dew point, accumulated rainfall, and evapotranspiration (ET).
Export exact date ranges and desired sensors.
Measurements and Sensors - Hobo MicroRX
Applications for Data Logger Station - Hobo MicroRX
Environmental Research
Robust and reliable micro-climate monitoring in harsh field conditions with location-independent access to your data.

Commercial Agriculture
Monitoring critical field conditions for optimal irrigation, pest control and harvest times.
Agricultural research
Remote monitoring and data collection to save water, improve crop quality and increase yields.


Monitoring of water parameters
Optional water level sensors and integrated flow calculations for automated water consumption monitoring, level tracking and alarming.
Please note:
The HOBO MicroRX Station is a flexible remote monitoring station with modular configuration. We offer the HOBO RX3000 Remote Monitoring Station for more demanding applications such as processing of analogue signals and a larger number of measurement parameters.
---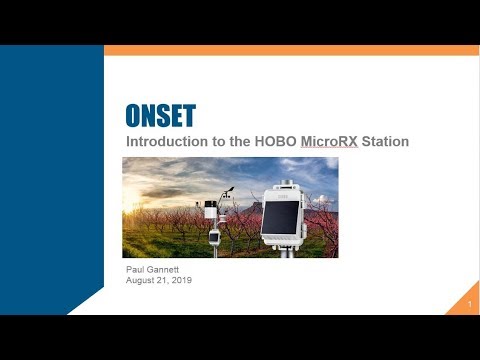 Webinar: Introducing the New HOBO MicroRX Station
This webinar introduces you to the HOBO® MicroRX Station – the newest product in our line of low-cost environmental monitoring stations known for reliability and durability. You'll learn how you can easily view, access, and share your data in the cloud.
Features and Technical Specifications - Hobo MicroRX
Using customizable data plans and a choice of sensors for a variety of parameters, the MicroRX Station offers great flexibility for your work in the field.
For a complete set of product specifications and available sensors, please read
our datasheet.
Compact size for easy deployment
Robust, weatherproof IP66/NEMA 4X enclosure
Two power options:
Integrated 1.7 W solar module with rechargeable battery pack
5W and 15W external solar modules can be added (RX2102 and RX2104 only).
User-replaceable AA lithium batteries
Inputs for five plug-and-play smart sensors
Optional water level sensor input (RX2103 and RX2104 only)
Built-in LCD confirms proper setup and operation
Integrated mounting tabs for use with screws, zip ties, or U-bolts
Station-side alarms, including water flow and accumulated rainfall
Up to 10-minute connection rates via 4G cellular data plans
Cloud-based monitoring and data access through HOBOlink
Operating Range
RX2103: -40 °C to 60 °C
RX2104: -20 °C to 60 °C
Smart Sensor Connectors
5
Smart Sensor Network Cable Length
100 m (328 ft) maximum
Logging Rate
1 minute to 18 hours
Alarm Notification Latency
Logging interval plus 2–4 minutes, typical
Power Source
Solar panel, batteries or external power supply (24V)
Memory
16 MB, 1 million measurements, continuous recording
Wireless connection
GSM, UMTS, 4G LTE
Display
LCD for on-site system verification and configuration
Software
Web-based Software HOBOLink
Other features and sensors
HOBO RX2100 Datasheet

Documentation HOBO RX2100
Other topics that may interest you: