Vaisala RFL100 - Wireless Data Logger for Temperature and Humidity
The RFL100 is a wireless data logger for monitoring temperatures and relative humidity in critical environments ranging from warehouses and production areas to cleanrooms and laboratories. The RFL100 data loggers link wirelessly to a Vaisala AccessPoint and can be integrated into the Vaisala viewLinc central monitoring system.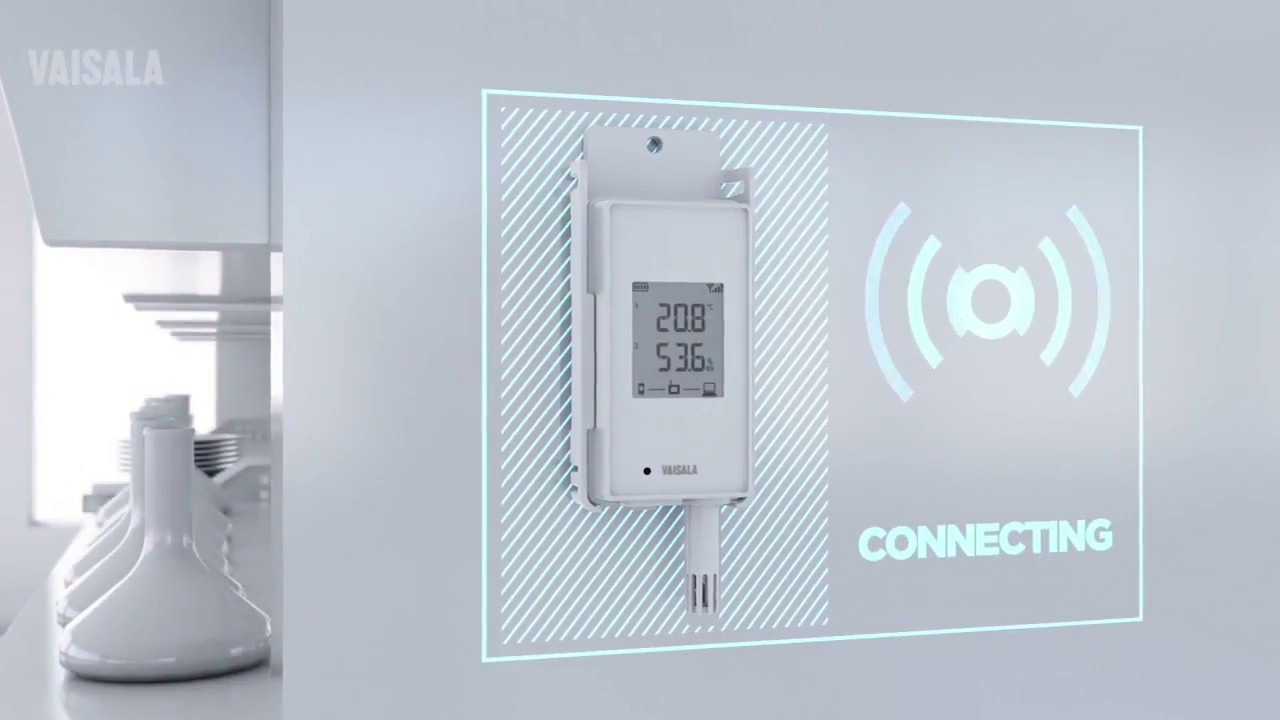 The RFL100 data loggers are a cost-effective alternative to traditional strip-chart recorders and can easily be set up by the end-user.
Temperature range –40 °C up to +80 °C
High accuracy measurements
Detachable high-accuracy RH and temperature probes
Typical battery life of 18 months
Traceable to SI units via national metrology institutes
Optional compliance tools: IQOQ protocols and GxP documentation
RFL100 VaiNet wireless technology
Robust wireless signal transmission that is extremely reliable over long distances and in complex, obstructed conditions is a basic requirement of wireless technology. The VaiNet wireless technology allows the signal to travel over more than 100 m (328 ft) indoors using encrypted communication between devices before the data are being stored to a secure database. This ensures integrity and security of your data.


Measurements from the RFL100 are updated and stored once every 60 seconds and sent from the data logger to an AP10 VaiNet AccessPoint every four minutes. In case of temporary network disruptions, the data logger can record up to 30 days of measurements to its internal memory (First In - First Out buffer, FIFO). These are automatically transmitted to the viewLinc Server once communication is restored. Recorded data can also be downloaded directly via the USB port.
RFL100 Features
The RFL100 requires no startup configuration or wiring, and the included mounting bracket supports several installation methods. The detailed custom display shows the latest measurement results, alarm and battery status as well as signal strength of the current access point connection. The housing is classified IP54 to protect the device from dust and during cleaning. RFL100 is powered by two standard AA size 1.5 V batteries (LR6 alkaline or FR6 lithium) for 18 months of operation at approximately 20 °C (68 °F). There is no need for costly battery replacements between recommended calibrations.
RFL100 Probe Options 
A range of easily interchangeable probe options is available for the RFL100.
Both the HMP115 (plastic) and HMP110 (stainless steel) probes offer superior stability when measuring temperature and relative humidity. The HMP110 is designed for extreme conditions and utilizes a cabled probe. Cable probe length options are 3 or 10 meters.


HMP110 Probe
Robust Stainless Steel Probe for Humidity and Temperatur measurements in demanding environments. Suitable for deployment in chambers, refrigerators and freezers.
HMP115 Probe
Probe for general Humidity and Temperature measurements, ideal for meteorology applications.
Designed for connection directly into the RFL100 inbuilt socket, but can also be used with a cable.
TMP115 Probe
Temperature probe with a large measurement range for use in extreme environments. Can be integrated into the RFL100 housing or connected via cable. The sensor tip withstands immersion into glycol and liquid nitrogen.
Probe
Readings
Temperature Range
Protection type
HMP115 
Humidity + Temperature
-40 °C to +60 °C
IP54
HMP115T
Temperature
-40 °C to +60 °C
IP54
HMP110
Humidity + Temperature
-40 °C to +80 °C
IP65
HMP110T
Temperature
40 °C to +80 °C
IP65
TMP115
Temperature
-196 °C to+90 °C

IP67 (probe tip)

IP65 (probe)
Carbon dioxide probe GMP251
Vaisala CARBOCAP Carbon Dioxide Probe GMP251 is a new intelligent probe formeasuring carbon dioxide. This robust, standalone measurement device is designed for use in demanding applications, such as life science incubators, where stable, reliable, and accurate performance is required.
Measurement range 0 ... 20% CO2
Intelligent, standalone probe with analog and digital outputs
Compatible with Indigo transmitters, RFL100 data logger and Insight PC software
Wide operating temperature range (−40 … +60 °C)
IP65-classified housing
Compensations also for pressure, oxygen and humidity
Integrated temperature measurement for CO2 compensation purposes
Sensor head heated to prevent condensation
Data sheet